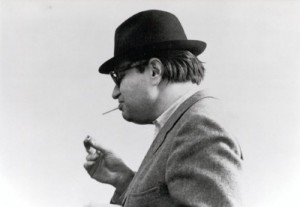 Morton Feldman was a pioneer of indeterminate music. Feldman's works are characterized by notational innovations which he developed to create his characteristic sound: rhythms which seem to be free and floating; pitch shadings which seem softly unfocused; a generally quiet and slowly evolving music; recurring asymmetric patterns.
Indeterminacy in music began early in the twentieth century in the music of Charles Ives. In time, it came to refer to the movement which grew up around John Cage. Any part of a musical work is indeterminate if it is chosen by chance, or if its performance is not precisely specified. One strand of indeterminacy in music sees it as an aesthetic endeavour that strives to dissolve any fixed properties of music sound into a fluid process and do away with the traditional control of the composer over the material. In its most radical form, all sounds have equal value: sounds chosen by the composer, by the performer, and all the unforeseen and unpredictable sounds that surround us every day.
Later in his life, Feldman began to produce long works, often in one continuous movement often much longer than 30 minutes in length. These works include Violin and String Quartet (1985, around 2 hours), For Philip Guston (1984, around four hours) and, most extreme, the String Quartet II (1983, which is over six hours long without a break). 
These pieces maintain a slow developmental pace and tend to be made up of mostly very quiet sounds.
Feldman said himself that quiet sounds had begun to be the only ones that interested him. In a 1982 lecture, Feldman noted: "Do we have anything in music for example that really wipes everything out? That just cleans everything away?"
On April 11, 2010, by Ne(x)tworks performed the epic String Quartet No. 2 at an historic, pre-renovation concert from ISSUE Project Room's future second home in Brooklyn at 110 Livingston. The event was hosted by WQXR Overnight Host Helga Davis.
In may of 2010 WQXR offered on-demand streaming of the iconic 6-hour performance on the Q2 Live Concerts portion of their web site. This concert was recorded by Noriko Okabe and Bill Bowen and mixed by Ed Haber. It has been split into three parts to facilitate web streaming.
Visit the original posted content at WQXR's website to read more specifics and see photos from the event.
PART ONE:
PART TWO:
PART THREE: