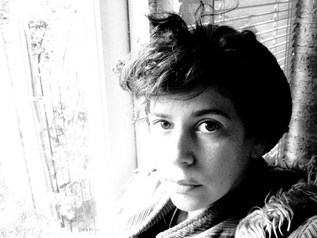 Artist: Idiot Queen
Title: Idiot Queen
Label: MiMi
Cat No: Mi194
Link: download
Dawn Mendonça is a member of a focused, small art collective know as the Idiot Society in which she reigns as Idiot Queen. While not initially sounding as a glamorous title it takes but a single listen to her latest recorded works to realize her position of  royalty is a well deserved and earned one while the label of "idiot" is apparently all tongue in cheek. The musical moniker of painter, photographer, musician Dawn Mendonça, Idiot Queen, has been compared to both Laurie Anderson and Anne Clark. As a musical artist she explores electronic sounds and dabbles in collage, dissonance and cleverly crafted repetition.  The songs and musical yarns are built out of electronics, sampled acoustic instruments, looped samples, and a vocal quality closer to storytelling than singing.  "Love and loss, the absurd and the divine are the broad themes Idiot Queen explores in this release for MiMi Records"
Idiot Queen initially  presents as having the qualities of many similar past experimental releases, primarily due to the  somewhat rudimentary quality of the looped rhythms and synth patches coupled with breathy and disembodied "spoken" word.  While simple in technique, the structure of her tracks are compelling enough to not fall into the realm of ridiculous retro and this release is far from a throw away effort standing far above many similar attempts within this genre's past.
Dawn Mendonça's experimentations with painting, photography, writing and music lend part to her musical approach through a visual language utilized in her  compositions. She draws us in to a palpable scene for each song, creating a mood or environment for the eventual expression of her thoughts an stories. These ventures range from contemplative to absurd and almost mundane as in "I wish I could sing jazz like you". Overall, each track seems a unique expression of a particular place and feeling, while simultaneously drifting timelessly. What most surprised me about the Idiot Queen release is that it held its own for ten tracks. Each track stood on its own merit and the entire release did not become repetitive or stale as pieces composed in this genre are apt to quickly become.
I always  find it interesting to listen to songs recorded in a language I don't speak. This usually allows me to hear the music, combined with the emotive qualities of the voice unhampered by the content of the lyrics. The track "Quando passas por mim" is a perfect example of how well this works for me and is a standout favorite of mine. The steady raw looped groove reminds me of what I might expect from a mid-period Massive Attack demo. Her unique vocal style lends a sense of mystery to the track, as it does to most.
Mendonça has cleverly included fellow Idiot Society member Bill Rivers, as we'll as past collaborator Frederic Choudin to lend their voices to the tracks "The Sun Will Set and Never Rise" and "Amour", respectively. The collaborative efforts serve to break up the release a slight bit, further preventing it from falling into a stylistic rut and still retain a cohesive flow throughout.
We do not get the chance to hear releases akin to Idiot Queen often, at least not releases that are compelling and can hold up to more than one listen. I commend  Dawn Mendonça for her efforts and achievements generating such a compelling collection of tracks. I see a very unique talent here that I hope to see grow and nurtured artistically. I believe she has only just begun to explore the textures and possibilities of her potential sound palette and I look forward to hearing more from her and the Idiot Collective in the future.