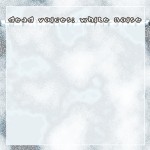 Artist: Various
Title: Dead Voices; White Noise
Label: Just Not Normal
Cat No: IMC03
Link: download
Summertime here in the U.S. often signals the release of a small run of low budget, poorly acted horror movies aimed at pre-teens and teens who want to avoid using too much of their critical thinking skills and occasionally see a blonde cheerleader eaten by a ghastly beast or tortured by a rusty hook-handed deviant seeking revenge on beauty and the obvious lack of good judgement. Just in time for these months of blood gore, horror, and fright is the latest Just Not Normal Netlabel compilation entitled Dead Voices; White Noise.
Electronic voice phenomena (EVP) are electronically generated noises that resemble speech, but are not the result of intentional voice recordings or renderings. Tracks for the Dead Voices; White Noise compilation were created using EVP recordings, either as samples to complement a composition, or manipulated to become the basis of the composition itself.
Whether a skeptic or a firm believer in the supernatural, this collection of tracks embraces the dark and mysterious undertones of the subject matter. Presented as creaks in the night, swirling disembodied voices or the drones reminiscent of an echoing empty underground lair, each track seems to haunt the listener with reminders that you may not always be alone when you think you are.
At the moment this is being rumored as the last Just Not Normal Netlabel release for some time to come.
This review was originally written by Alan Herrick for Netlabelism.com