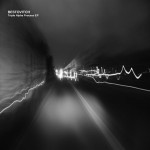 Artist: Bestovich
Title: Triple Alpha Process
Label: VKRS
Cat No: VKRSNL027
Link: archive.org
Bestovich (aka Paul Best) is a Belfast based electronic music artist. Paul has been directly quoted stating, "If it makes a bleep, bloop or percussive sound I'll use it". Triple Alpha Process, his latest EP released by VKRS netlabel, unleashes his myriad of devices to spin a yarn of audio, with influences of early Aphex Twin and Leftfield frequently floating to the surface. The first two tracks may not break any new grounds, however they offer a rather comfortable listening experience. The third track, Slip Away, shines brightly as a composition which progresses intelligently through multiple styles and textures – ambience gives way to glitch and thus works through delicate textured rhythms crafted of unknown origins. This final track shows that Bestovich can break free from his influences and compose a piece singularly unique and fresh and he should be encouraged to continue working in this realm.
The Triple Alpha Process is a set of nuclear fusion reactions by which three helium-4 nuclei (alpha particles) are transformed into carbon – one of the more highly stable elements. The three pieces included in the "process" of this aptly named EP do transform into one highly stable and enjoyable release.
This review was originally written by Alan Herrick for Netlablism.com