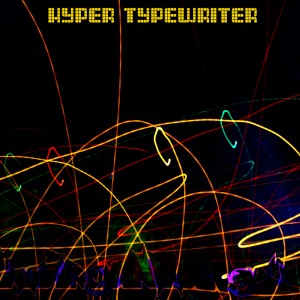 Artist: wAgAwAgA
Title: Hyper Typewriter
Label: acroplane_recordings (ACPR009)
wAgAwAgA produce  dubstep and electronica that can easily function as a replacement for the morning coffee. With the latest release – Hyper Typewriter – wAgAwAgA have proven a clear understanding of modern music and electronics in a way that affords the ability to create engaging and well versed audio adventures.
This release avoids the repetition and redundancy that many dub albums fall prey to and can render them as sonic wallpaper and helps wAgAwAgA to stand out and above wAgAwAgA's peers. Many of the tracks progress and change enough that the average dub artist would have created multiple tracks from almost any of them. wAgAwAgA works these transitions seamlessly and flawlessly to give you more than you would expect from even a single track.
Hyper Typwriter does not just disappear into the background of your listening. This is an approach to dub, dubstep and electronic music (with just the right amount of jungle tossed in) that can stimulate the cerebellum and shake your ass even if you are trying your best to keep still.
The piece Street Noise employs a compositional approach that starts with some manipulated street noise field recordings and progresses to a deep thumping groove of electronics. This track, amongst others, should have been used as the soundtrack to TRON rather than the futile attempts by Daft Punk. In a similar fashion, the track Mephedrone displays an uncanny ability to pull back and show restraint to achieve dramatic effect rather than just building up and layering in a bigger and fiercer fashion. This is also one of the clearest examples of wAgAwAgA's ability to work the electronics in a similar fashion as a serious jungle turntablist.
Daisy Town Acid and Mr Toad are great examples of a more humorous and fun side of wAgAwAgA which creeps into the mix occasionally and reminds the listener that the influences expressed in the tracks go far beyond the average dub/jungle/electronic realm. These make for one of the fastest trips ever to the edge of the universe on a hijacked spaceship with Perry and Kingsley at the helm.
Yudo and Nightingale stand out as a wonderfully melodic, glitchy and dreamy pieces. Yudo builds up into ferocious and remarkable jungle rhythms while maintaining a very ambient Art of Noise retro feel and imminently explodes in a bubbling, swirling joy of electronics and then returns back to its relaxing ambience. Nightingale meanders in a peaceful way that helps calm the nerves and engage the brain in a relaxed way and serves as a brilliant lead-out track for the entire release.
Hyper Typewriter is the perfect soundtrack to all those un-filmed science fiction movies and cartoons buried deep in your mind that have yet to bubble to the surface. With a generous dose of wAgAwAgA these new adventures will certainly start to spew forth from the recesses of your imagination. The tracks are well thought out, intelligent compositions of modern electronic and dub, definitely worth paying attention to and wAgAwAgA is more than worth keeping your eyes on and ears engaged with.
ACPR009: wAgAwAgA – Hyper Typewriter
Available February 28th via Boomkat, Itunes, Addictech, Amazon, HMV, Juno, Beatport and most other good online stores.
visit acroplane_recordings for more information and more music