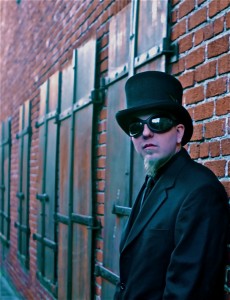 How did Noisepsalm get started and what inspired this choice of artistic expression?
Honestly, from a really bad work injury in early 2008. I also had help from Cary Vandever (she gave me a macbook as a birthday present) and David Martinelli (who helped me with Logic and Native Instruments). The combination of those three things is what got the ball rolling. I all of a sudden had a lot of free time on my hands and dealing with extreme pain used Noisepsalm partially to keep my sanity. I played in many bands and projects throughout the years prior to all this, and studied recording that was all "by the rules." Noisepsalm was built to be independent of said rules and also be free of permanent band mates; something that wasn't dependent on anyone but me to build or crash it.
Explain some of the instrumentation you use and how you go about choosing what goes where?
Whatever I can get my hands on as far as instruments go, and sometimes I'll hear something in my head and have to build it to have the right sounds, like with the springboard. I was looking for something with super low notes that sounded like an old door slowly closing, so my son and I built it. As far as placement, I usually hear in my head what I want to go where.
When you play live as well as record, you often create with different band members from project to project. How does the changing cast affect how you approach a project and what affect does changing your cast frequently have on the music and your approach to it?
Collaborating with recording is fun and challenging … doing it live has been fun and a headache. I will always collaborate live on the sound art sets (which are rare these days), but it's what makes it extremely fun for me. Now for the rehearsed shows with a more musical nature, I don't bring anyone else in anymore to perform live – with Jim and Susan of (waning) being the only exception. Currently I have Phoenix on guitar (occasionally) and Lacey who plays cello, piano and bass and I have Cary who plays all my homemade creations … she adds a real atmosphere to the show (as well as all the art). So most live shows are a bit more set in stone now and I've focused all the chaotic collab energy into putting it on tape.
How do you develop your works — improvised, scored, trial and error?
All of the above! Except, add accidental/magick in there as well.
What are the most important tools in your studio?
My ears … and creativity. I did not have nice equipment for years and it taught me to really dig deep with what you've got. That's probably why I still use Cool Edit Pro. I've spent so much time with it that I can do what I want very quickly. Noisepsalm was started as a way for me to figure out the electronic side of music and try all those recording techniques that are no-no's … a way to truly do what I wanted. That's why you will find my releases through Auricular Records; we share this same view on "process."
You mix a fair amount of digital, analog and home made instruments into your music. Is there any preference from one to another?
The preference is to mix all of the above into every project. Any source, really; I'm starting to get into field recordings and using those as a canvas for building textures on. It depends on what's influencing me at the time as well, I suppose. Also, what gear I have at the time, meaning I tend to borrow peoples equipment — mostly my dad's stuff (thanks again, dad). So that will obviously play a role into the sound, as well as being inspired by playing a "new" instrument.
Tell me a bit about the artwork that accompanies your releases and how the artwork plays into your overall concept?
Cary Vandever is responsible for the artwork on the albums. I generally have a theme and she takes my idea and makes it better — a lot better. Visually the art very much ties in with the records. I'm not going to explain how, but they're personal for me, especially Injured A.E.R.M. Army; that one came out after I had my first shoulder surgery and my son Phoenix had his eye surgery. The cover makes more sense after knowing that.
Is there a meaning behind the name Noisepsalm?
Growing up a pastor's son, I quite literally memorized the book of psalms and the importance of them, to those of that faith. I also make what my mother calls "mood" music – although she will often say, "That's just noise". So Noisepsalm, to me, is just clarifying the importance of what this is to me: very sacred noise, but not religious. Despite some rumors, this is not a Christian noise band.
What are the differences one would expect between a live performance and listening to a record?
Volume and clarity, for one. I always recommend putting your favorite headphones on and listening with no distractions. Live, you'll hear different versions of the songs from show to show. Someday I would like to do a live CD/DVD, because some of the songs have evolved to a point that I wish I could go back and re-record them, like "23rd abDUBction" with Rhedcerulean playing the live Melodica. I've started compiling footage for a DVD, so we'll see what happens.
Where is Noisepsalm's future heading…are there any secret plans?
Halloween – October 31st, 2010 – "Death Mask", the new full-length album, will be released through Auricular Records. So I'm excited about that. Tracking and mixing has just been finished and "Death Mask" has been a project for 19 months now, so it will be nice to close the book.
2011 will see a re-vamped live show and something worth checking out. I won't spoil any surprises. Also, 2011 will hopefully see a collab project (double album) released with 23 different artists. That has been two years in the works now.
As for secret plans, we have something special planned for Friday, May 13th, 2011, so keep updated at our mailing list on that noisepsalm@hotmail.com.
Listen to more Noisepsalm tracks, learn more and purchase their releases at the Auricular Records Noisepsalm web site
Follow Noisepsalm on Facebook
Follow Noisepsalm on MySpace
Thanks for reading this everyone and remember: tune with caution.
mA+h (noisepsalm)