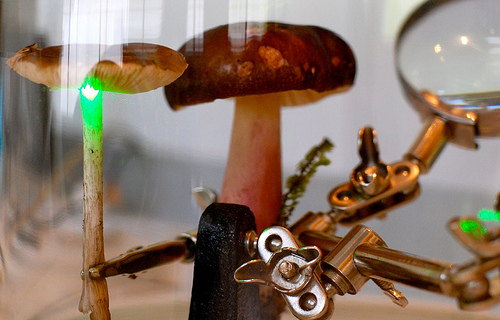 Sound designer Yann Seznec and mycologist Dr Patrick C Hickey have created an installation – The Secret Sounds of Spores – on exhibit at the Edinburgh Royal Botanic Gardens until Nov 21,  2010. The installation  turns  the patterns of falling spores into music. Seznec and Hickey were awarded an Alt-W grant from New Media Scotland for the idea.  The Secret Sounds of Spores uses lasers and mushrooms to make music from falling spores in real time.
Mushrooms are isolated in glass containers. A  laser is shined underneath a live (or recently deceased) mushroom allowing for the visibility of falling, or moving, spores.  A magnifying glass focuses on the cap, which is irradiated by the laser beam. A camera is pointed at the mushroom, and the live video feed is sent to the computer for analysis. This is done in Jitter, which tracks the spores in real time. The data is processed in Max and sent out Arduinos, which control musical instruments creatd using small solenoids.
Max is a visual programming language for music and multimedia. It has been widely used by composers, performers, software designers, researchers, and artists for creating innovative recordings, performances, and installations. Max is a set of audio extensions for MSP which enable the manipulation of digital audio signals in real-time, allowing users to create their own synthesizers and effects processors. A major package for Max/MSP called Jitter was released in 2003, providing real-time video, 3-D, and matrix processing capability.
The Secret Sounds of Spores installation is part of a whole show about mushrooms – From Another Kingdom: The Amazing World of Fungi presented at Edinburgh Royal Botanic Gardens.
Yann Seznec is a sound designer, musician, and digital artist . He is based in Edinburgh, and is currently guest lecturer at the University of Abertay Dundee, where he recently completed the Digital Media Arts Residency. He specializes in interactive installations, ragtime piano, Wii music software, and sound art.
Dr. Patrick Hickey became interested in mycology after working on an art project at school and subsequently studied mycology at university. In 2007, he founded NIPHT where he serves as Director.  NIPHT develops environmentally friendly technologies utilising fungi. The company also designs and manufactures novel energy-efficient lighting products and offers consultancy services to optimise bio-imaging techniques and optical instrumentation.