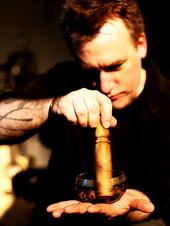 Eric Hausmann is a multi-faceted instrumentalist who has dabbled in just about every genre of music one could possibly imagine. His main focus has been on experimental soundscapes, improv, electronica and, most recently, dub. While possessing the uncanny ability to sway and manipulate many instruments and electronic devices to his liking and whims his primary focus is on percussion, Chapman stick, and occasionally trumpet and cello. He also studies the tabla and sitar, scores soundtracks, and loves collaborating with other artists. In the 80's, Eric discovered the D.I.Y. mail art/cassette culture and dove in head first. He wrote music reviews for Factsheet Five, and produced releases for his own label – Spilling Audio. Spilling Audio still exists today as a label dedicated to publishing Eric's own works and collaborations.
This interview was conducted with Eric via email.
What are your musical roots – how did you start off musically?
I'm the youngest of five kids and, since most of my siblings had studied a variety of musical instruments before me, I was exposed to music early on.  I first studied violin and cello and eventually migrated to the trumpet.  It wasn't until I was about 13 that I discovered the guitar.
You work as a multi-instrumentalist across many genres and styles. What would you consider your "main" instrument(s)?
My primary instrument is guitar, but I do like to play many other instruments.  Sometimes I have to use a little restraint though.  If I tried to play every instrument I'd like to play, I wouldn't be able to play any of them well at all.
What are some of the predominant styles and projects you have worked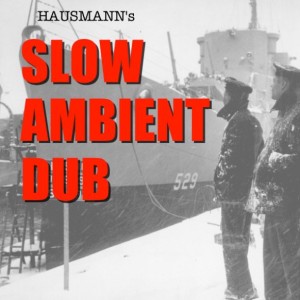 in/on?
The latest big project I worked on was my solo album, "Slow Ambient Dub."  Making dub is a really satisfying process. It's so free to explore and experiment with, especially in the production stage.  I also play free improv with Tres Gone, and more ambient experimental improv with Tiffany Lee Brown.
You started your label, Spilling Audio, in the 80's as a cassette DIY label. What was that experience like during that time period?
The DIY cassette movement was already happening and I just kind of stumbled upon it by accident, thanks to Factsheet Five.  It was exciting because you could trade, buy and sell your self-produced album to others who were hungry for something new.  Suddenly there was this large, global audience that came out of nowhere.
What sort of dynamic was there between your label and your music? Did you find one or the other had greater influence on you as an artist?
It was very back and forth.  I would spend all my free time writing and recording music and as soon as I finished a new album, I would switch gears and go into production mode.  Duplication, packaging, writing letters, organizing new compilations, mailing.  The creative me and the task me are two very different individuals and are almost entirely independent of the other.  It's really difficult to try and do both at once.
What have been the primary changes for you as an artist in in your art over the past two decades?
20 years ago, everything was new, everything was an experiment with unforeseen, exciting results.  I was on a very tight budget and would often make do with what was available at the time.  For example, lacking any real percussion instruments, I would rely on coffee cans, metal pots, a box of rice as a shaker.  Every kitchen is musical!  20 years later, I'm much more focused with my projects and am able to execute more of what I'm thinking and imagining.  Certain aspects are still often very surprising and unexpected, but unless I'm doing free improv, I have a lot more targeted control over how things comes out in the end.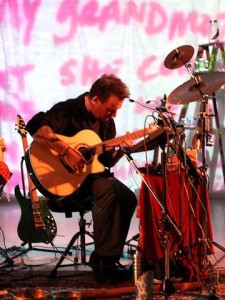 What direction do you see your work moving in?
Since making the dub album earlier this year, I've recorded some more.  I can see myself periodically doing dub projects on a regular basis.
Additionally, I'd like to take on more soundtrack projects.  You know, people say things like how your music would work well as a soundtrack, but the few times I've actually tackled a real soundtrack project, it was not as easy as I thought it would be.  If the film project originates elsewhere, you're faced with trying to enhance someone else's visions and ideas with your own ideas, but from both perspectives.  It takes me out of my musical comfort zone and by the time I'm finished, there's this piece of music that, while it has elements of my own style, has a whole new sound that's like nothing else I've ever done.  I really like that challenge.
Additionally, I plan to start making short films to accompany the music I've been recording.  Sometimes video seems like a necessary evil if you want to generate some attention, but if you're making good films, that's quite okay.
You recently have participated in collaborations with Space Gambus Experiment from Malaysia – this involvement included recording long distance and via the internet. How was this experience for you?
I really dig what Space Gambus Experiment has been doing.  It's exciting and mysterious.  They're a large group of unpredictable improvisators, yet they play with an amazing amount of restraint.  I don't think it's easy to pull off this kind of performance, especially when a group also incorporates musical hooks, melodies with beats, and traditional roots.  Here in Portland, people would be amazed by what they do.  They would instantly become local rock stars.  As for my collaborations with SGE, I've only recorded a couple of tracks with them so far, but I'm hoping we'll have an opportunity to do some in-person recording or performing before the end of the year, when I'm in Kuala Lumpur.
What primary effect has technology had on your experience as an artist?
Even as a kid, I've always been a pretty big nerd when it comes to technology and electrical-type things.  As a result I've really embraced artistic technology.  It's not just because of the cool factor.  It's easy to get swept away by how easy it is to make ear candy now, but just how much can you get behind a project when you've adjusted a few parameters and then declare, "Wow, that sounds cool!  Check out the awesomeness I just made!"  It's fun to do that, for sure, but now I crave more meaningful, quality results.  Part of getting older, I guess.  So, the thing I love about the technology is the ability to work efficiently when good ideas are flowing.
Music is not your only passion – you have been involved in zine culture, photography and other areas. How does all this involvement contribute to shaping you as an artist? Do you feel each of these "Erics" is individual or all your involvement contributes to a "whole" artistically?
Music is probably 90 percent of it.  Even when I shoot photos or video, I'm always thinking if and how there's a way to incorporate it into the music I'm working on at the time, or, allowing the imagery to inspire me to create new music.  There are a lot of artistic areas I'd like to be involved in, but I don't because I can't take on so many things without giving each enough time to make something worthwhile.  Even with music, I went through a period where I wanted to get my hands on every single instrument and noise-making device I could find.  Now I'm mainly interested in guitar, bass, tabla and drums.  It's more than enough to keep me busy, and satisfied.
We have seen huge changes in the "scene" since the 80's – what are the biggest changes and effects you have undergone?
The most obvious changes have been technical and logistical.  The web has replaced print zines and email has replaced postal mail.  I don't think it was a very smooth transition, but it's much better now than even a few years ago.  At the risk of sounding like an old fart, I miss the days of paper zines, cassette tapes, physical items that arrive in your mailbox.  The web, mp3s and email have taken over in a relatively short period of time, but I suppose the big upshot here is the immediate delivery of content and instant communication.  It's interesting and exciting to witness, and to be a part of, all these technological transitions in communication.  But I think it will be many more years before it can settle into something as meaningful and soulful as it used to be.
What are some of the biggest advantages and challenges you face as an artist?
The largest obstacle is time.  There are so many of us who have to work day jobs to pay the bills because we're not artists who can financially support ourselves from our creative output.  I was having a conversation with someone about this a few days ago.  There are people who love what they do for a living, people who have worked to get where they are, and people who are just simply content with their career.  Then there are artists, like many of us, who lead double lives.  We work at jobs all day that maybe we don't necessarily hate, but eat up the majority of our time, when we would rather be making things, and creating new things.  Instead, we stay up late and work on very little sleep, and our energy is often evaporated by the time early evening rolls around.  Our time as artists comes at a premium.  That being said, when we complete something, it's often a labor of love that means a lot, because it's such a labor-intensive process to reach your artistic vision.
If you could record or perform with any artist(s) who would it be and why?
This is a difficult question.  I'm not sure if I have what it takes to work with any of these people, but my fantasy music project would include the following artists:
Bill Laswell – he's a superior musician and one of my favorite bassists, but beyond that, he also knows how to arrange, produce, mix, remix and take an unlikely group of artists and get them to create something new and wildly interesting.
DJ Spooky – I'm not even sure where to begin.  Paul Miller is, without a doubt, one the most important figures in modern music.
Antonio Sanchez – He plays drums on several Pat Metheny projects.  Twice I've seen him play live and I can't recall ever witnessing a drummer like this.  He plays with the perfect combination of finesse and precision, it's like listening to someone create a big, beautiful painting.
Gingger Shankar – A long time ago I saw her play in a trio consisting of 2 double violins and tabla.  Later I discovered her playing on soundtracks and doing solo work with electronic elements.  My favorite violinist.
Steve Tibbetts – He plays acoustic 12-string guitar like no one else, bending notes and such.  And then he'll introduce feedback on top.  Also a fine percussionist.
What is your favorite snack food?
Yesterday would have been Funyons, today would be Milo Nuggets.  Tomorrow?  How about handfuls of Froot Loops, right from the box?
---
You can learn more about Eric Hausmann and his works at
Spilling Audio
.
---
links to all the name droppings:
http://www.myspace.com/billlaswell
http://www.djspooky.com/
http://www.antoniosanchez.net/
http://www.myspace.com/gingger
http://stevetibbetts.com/