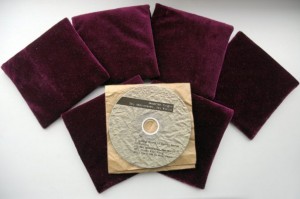 Since 2007, Turbinicarpus has been issuing and distributing experimental and avant-garde music. Each release comes as an extra limited edition exclusively packaged in a handmade sleeve or special packaging. The packages are all very unique and enticing visual expressions of the music contained within. As the years have passed, the packaging has become more involved and the music continues to be remarkable.
This weeks pick from the Netlabel Table is the most recent release from Turbinicarpus -  the sophomore effort  of  GAMARDAH FUNGUS  -  a duo from Dnipropetrovsk in the Ukraine entitled  Two Hemispheres, Two Worlds. Available as a 5-track CD or free mp3 download, the release is built on contrasts, a quiet twanging that occasionally drowns in noise overload, some elements of traditional guitar solos and ambient landscapes, but also church hymns, mysterious voices from the other world and even a Turkish vocalise…
Each of the five tracks continues the preceding track's theme in its own way. It is suggested that you listen to this album from the beginning to the very end – to get the chance to capture the psychedelia that hides in it's integrity.
The handmade package is made to highlight the music contrasts. A tender warm dark violet sac contains an envelope made of rough and crumpled packaging paper with the cd (in full print) itself. And only after opening all of them the listener gets the chance to read the track names… Patience will be rewarded. "He cuts through the path he follows", as our ancestors used to say.
Learn more about Gamardah Fungus'  release – Two Hemispheres, Two Worlds